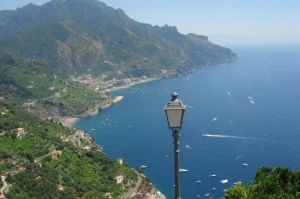 One of the reasons I like traveling the most is to see how many beautiful places exist in the world. There is so much to see and do, and there is an endless supply of natural beauty. It helps me stay motivated because I want to remain healthy and active so that I can continue to see the world my whole life.
What inspires you? Maybe take a few minutes to really think about what gets you going and if you have enough of it in your life.
The picture above is our view from the villa we were staying at in Ravello Italy (part of the Amalfi coast). Price point: $38 a night per person. I love that some of my best views have been the cheapest. Double click on the picture so that you can see it a little larger. To the left on the lamppost and down on the shore, look for the red and blue umbrellas (you can barely see them). That is Minori. Read Monday's blog to find out how we got from where we are standing taking this picture, to Minori, down below.