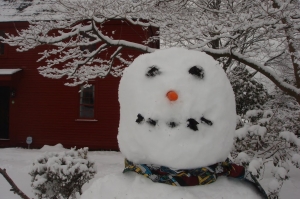 Okay, we're almost there. March is really the last month that feels like winter. We've made it this long. If you're feeling like the winter will never end and it's starting to get you down remember to try and make the best of it.
Walk outside to get some much needed sunlight. Decide to join a weekly exercise class to make sure you have to move your body at least once a week. Don't let the cold weather trap you inside. Exercise will help keep you motivated. You may feel like curling up into bed (which has it's benefits), but moving will help you feel better all winter long. So workout and then curl up into bed.
Or, make it fun. I made the snowman above after having a snowball fight–technically, that's exercise and a wonderful way to make the best of winter. I highly recommend it. The neighbors might think I'm crazy, but I laughed the whole time.